Prices paid to producers sank 0.5% in October, core unchanged
Decline in goods costs led by gasoline, services prices flat
Prices paid to US producers unexpectedly declined in October by the most since April 2020, adding to evidence of abating inflationary pressures across the economy.
The producer price index for final demand decreased 0.5% from a month earlier, a sharp slowdown that's largely reflective of a decline in gasoline prices. Excluding food and energy, the so-called core PPI was unchanged, government data showed.
From a year ago, the overall measure was up 1.3%, while the core gauge posted the smallest annual increase since the start of 2021.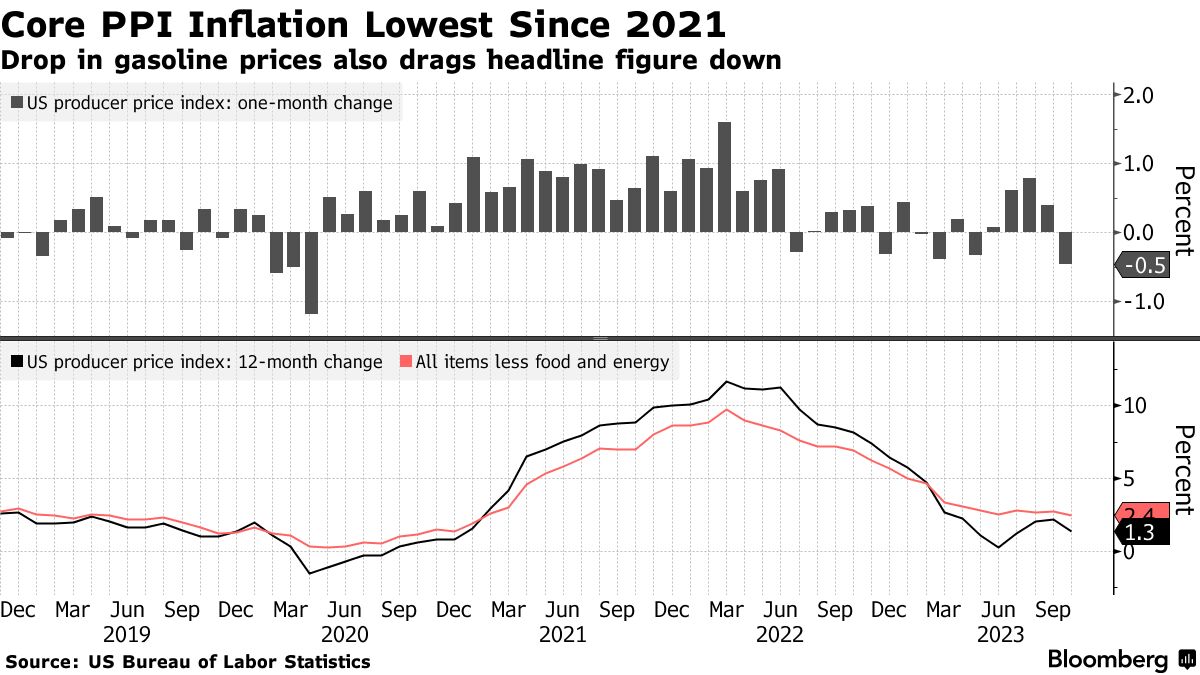 The figures come just a day after a separate government report showed little change in consumer prices last month. Furthermore, a key measure of underlying inflation unexpectedly slowed, spurring traders to dial back bets of any additional interest-rate hikes by the Federal Reserve.
At the same time, separate government data on Wednesday showed better-than-expected retail sales data. Overall sales edged lower in October, but the prior month's gain was revised higher to the strongest monthly advance since the start of the year.
Over 80% of the decrease in goods prices was due to a 15.3% slump in the cost of gasoline, the government report. Services costs, meanwhile, were flat after rising six straight months.
One reason economists at the Fed and on Wall Street parse the PPI report is because several categories — including those related to portfolio management and within health care — are used to calculate the Fed's preferred inflation measure, the personal consumption expenditures price gauge.
Prices for air services and a number of health care categories rose, while apparel retailing and portfolio management costs declined.
The slide in gas prices, in particular, helped alleviate wholesale cost pressures. While the cost of labor and many other inputs remain elevated, annual producer price growth has eased since early 2022 amid normalizing supply chains and a broader shift in consumer spending toward services.
| Indicator | Actual | Median estimate |
| --- | --- | --- |
| PPI (MoM) | -0.5% | +0.1% |
| PPI excl. food & energy (MoM) | 0.0% | +0.3% |
| PPI (YoY) | +1.3% | +1.9% |
| PPI excl. food & energy (YoY) | +2.4% | +2.7% |
Fed Chair Jerome Powell emphasized earlier this month that the central bank is proceeding carefully, while also making clear that he and his colleagues won't hesitate to tighten policy further if warranted.
Stripping out food, energy and trade services, which is a less-volatile PPI measure, prices edged up 0.1%. That was the smallest increase in five months.
Costs of processed goods for intermediate demand, which reflect prices earlier in the production pipeline, decreased by the most since May. Excluding food and energy, processed goods for intermediate demand barely increased.
Written by: Reade Pickert — With assistance from Chris Middleton @Bloomberg.com