One-day mark-to-market profit of $513 million on short bets

Stock remains halted after falling 63% in premarket trading
SVB Financial Group's record plunge on Thursday minted short sellers roughly half a billion dollars in paper profits. But they now face a challenge: how to close their positions.
SVB shares plunged by 60% on Thursday as worries mounted over the bank's operation, netting traders who bet against the stock a one-day mark-to-market profit of roughly $513 million. The stock fell another 63% in premarket trading Friday before being halted, with the Federal Deposit Insurance Corp. ultimately announcing that it had seized the bank.
"SIVB's closure gives short sellers a windfall profit, but now they have to go through the sometimes-difficult process of liquidating their positions and realizing their mark-to-market profits," said S3 Partners head of predictive analytics Ihor Dusaniwsky. 
"With stock borrow financing costs accruing daily, even on weekends, even though trading is halted there is a continuous reduction of profits until short sellers close out their positions and return their borrowed shares."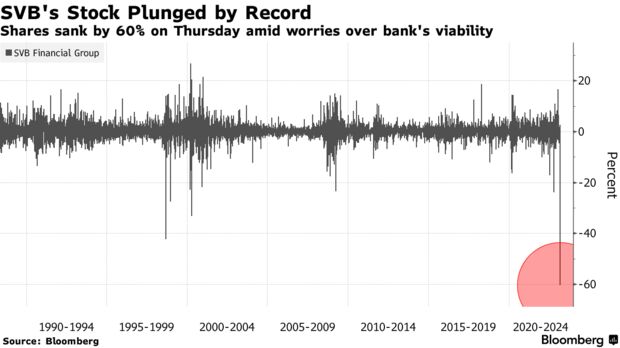 The SVB collapse comes just a day after crypto-friendly bank Silvergate Capital Corp.'s announcement that it would liquidate and voluntarily wind down operations of its bank. That too minted bets against that heavily-shorted stock a sizeable windfall, although unlike SVB, its shares are still trading.