Bullish strategist's 2022 price target is 4,800 for the index

Kolanovic has previously urged investors to buy the dip
JPMorgan Chase & Co.'s Marko Kolanovic reiterated that increasingly hawkish central banks and the destruction of the Nord Stream pipelines will likely cause delays in the US equity-market's recovery, putting the firm's 2022 S&P 500 Index price target of 4,800 at risk. 
Wall Street's most vocal bull, who first sounded the alarm on Friday, said in a note to clients on Monday that the bank's forecasts may not be met until 2023, or until risks ease. JPMorgan's year-end target, which implies a potential upside of about 30% through Monday's close, is now in jeopardy.
"We still believe that Asian growth will be supportive of the global cycle and low investor positioning provides a floor to market; however, we are growing increasingly worried about central banks making a policy error given the recent escalation in hawkish rhetoric, and of new geopolitical tail risks following the destruction of the Nordstream pipelines last week," Kolanovic wrote in the note. 
As for the recent turmoil in the UK gilt market and its impact on Treasuries, "in the US, the near-term prospects of further disruptive rises in yields stemming from the UK seem limited, though further ahead the BoJ could loom as a risk," he added.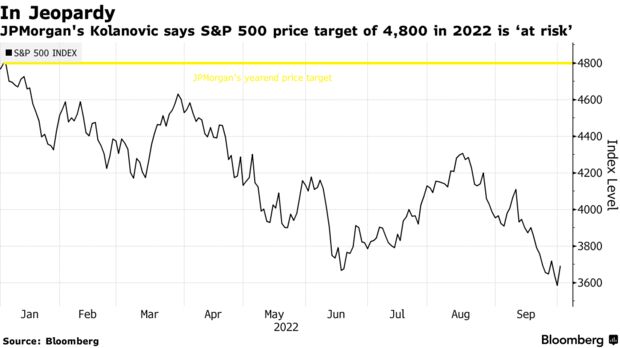 Kolanovic, voted the No. 1 equity-linked strategist in last year's Institutional Investor survey, hasn't had much success with his bullish calls so far in 2022. Over the summer he maintained that the US stock market was poised for a gradual recovery in 2022 and that the S&P 500 would likely end the year unchanged, repeatedly urging investors to buy the dip.  
A growing number of strategists are becoming more bearish. On Monday, Credit Suisse Group AG strategists lowered their year-end goal for the S&P 500 by 10% to 3,850 points, while Goldman Sachs Group Inc. last month slashed its 2022 target for the index to 3,600 from 4,300.
Morgan Stanley's Mike Wilson, one of Wall Street's widely-known equity skeptics, said on Monday that the trajectory of earnings estimates, the primary pain-point for stocks currently, won't change even though a dovish pivot by the Federal Reserve is becoming likely due to a drop in global money supply. Last week, Wilson said US equities are in the final stages of a bear market and could stage a rally near term, but he expects the selloff to resume thereafter.
Meanwhile, strategists at Bank of America Corp. led by Savita Subramanian said on Monday that there is "no full capitulation on Wall Street yet."