Only a third of funds are beating benchmarks, strategists say

Funds underweight the seven stocks driving Wall Street gains
A reluctance by US mutual funds to invest in big tech stocks, which have staged a ferocious rally this year, is costing them dearly as they're underperforming broader indexes, according to Goldman Sachs Group Inc. strategists. 
Just a third of large-cap mutual funds are beating their benchmarks this year, compared with the long-term average of 38%, Goldman strategists led by Cormac Conners wrote in a note. 
The average fund is 15 percentage points underweight Apple Inc., Microsoft Corp., Alphabet Inc., Amazon.com Inc., Nvidia Corp., Tesla Inc. and Meta Platforms Inc., according to Goldman. Those stocks have been the biggest gainers in terms of index points in the S&P 500 in 2023. 
The recovery in US equities this year has been led by a small group of tech giants as investors shifted toward companies with strong earnings potential and exposure to artificial intelligence, and away from economically sensitive cyclical industries. The Nasdaq 100 Index is up 24% and set for its best start to a year since 1998. It's a sharp contrast to 2022, when the tech-heavy benchmark posted its worst loss since the 2008 global financial crisis amid rising rates and concerns about profits.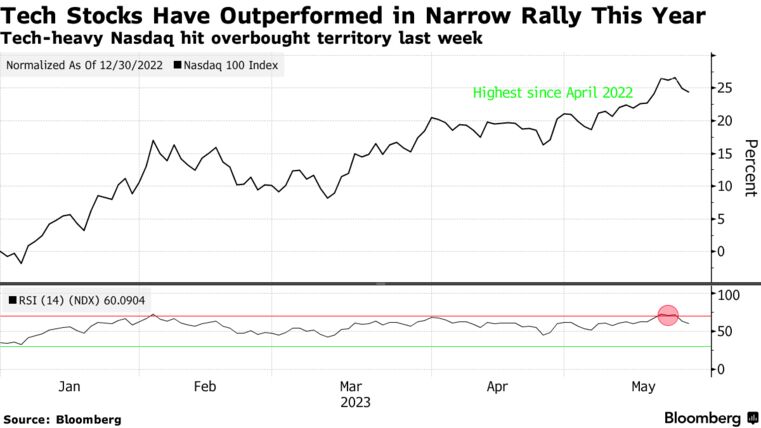 "The underweight positions of core and growth funds in the largest tech stocks have been a significant headwind to returns amid this year's narrow market rally," said the Goldman strategists.
Instead of shifting toward more defensive and growth sectors, which have led this year's rally in stocks amid recession fears, US mutual funds positioned for an environment of strong economic growth and rotated toward cheaper, or so-called value shares, according to Goldman. The S&P Value Index is up 3.3% this year, compared with a gain of 11% for its growth equivalent.
"For benchmarked investors, being underweight those stocks in a rally is extremely painful because obviously they're massive in the index," Raphael Thuin, head of capital markets at Tikehau Capital, said in a London interview. "A lot of reluctant investors who don't love this market but needed to get exposed went into tech: it's a bit of an easy trade." 
Thuin said that tech stocks are less attractive now compared to the start of this year because of elevated valuations and investor crowding. Tikehau Capital still sees some value in tech companies that have more reasonable valuations and offer exposure to AI.