Systematic investors have been swooping into US stocks

Buy options to protect against pressure on prices: Goldman
Goldman Sachs is urging investors to cushion themselves from the possibility of increased volatility in the next few months as Wall Street quants dive back into US stocks. 
Quant investors have swooped into equities as strong first-quarter earnings and resilient growth in the US has kept a lid on volatility. The Cboe Volatility Index (ticker VIX) has been below the 20 level since late March. This has pushed the exposure of systematic investors to above neutral for the first time since December 2021, according to Deutsche Bank calculations.
But because of this increased participation by quants, analysts at Goldman Sachs are now cautioning that stock prices are becoming more prone to sudden selloffs. The approaching debt-ceiling deadline and concerns about the stability of the US banks could also be triggers for increased stock-market volatility, according to the team of analysts including Christian Mueller-Glissmann. 
The team says that buying options to protect against sudden pressure on prices is a good idea, as these issues could flare up in the next few months.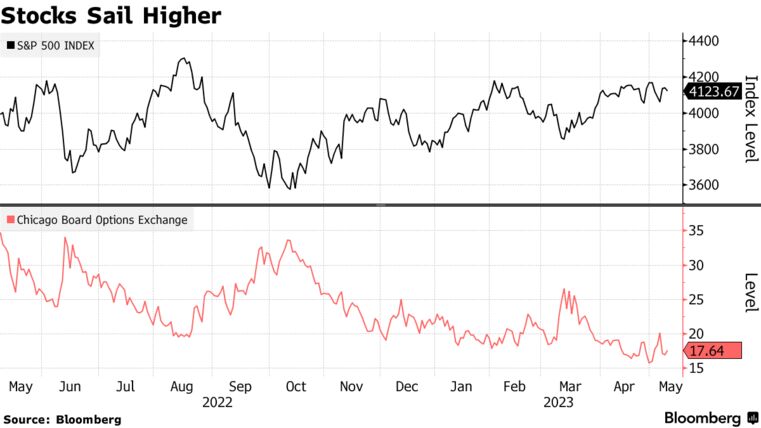 "After the equity volatility reset and with event risk into the summer, we like buying option hedges," the bank's strategists said in a Tuesday research note. The bank's team recommends buying equity-put spreads and says that selling volatility on safe-haven assets can reduce the costs of these hedges.
Goldman Sachs is neutral on equity and credit, overweight cash and commodities, and underweight bonds. It forecasts the S&P 500 to trade around the 4000 level in the next three months.
Written by: Eva Szalay — With assistance by Lu Wang @Bloomberg.com