Two-year bonds see biggest 3-day yield decline since 1995

Investors seek havens after failure of two US regional banks
The yield on short-term Canada bonds is falling at the fastest rate in decades, as investors bet the Bank of Canada will cut rates in coming months to counter fallout from the collapse of US regional banks. 
Canada's two-year benchmark yield tumbled 42 basis points Monday to 3.532%, bringing its total decline since Wednesday to about 77 basis points. The last time the benchmark dropped that much over three trading sessions was in May 1995, according to data compiled by Bloomberg.
Traders in overnight interest swaps are now pricing in rate cuts from the Bank of Canada by June. Last week, traders were expecting the next move to be a hike. 
It was a day of investors seeking safe havens as the collapse of regional US lenders Silicon Valley Bank and Signature Bank rattled investor confidence in the US banking system. Gold jumped and US Treasury yields also saw a historic decline. Economists at Nomura Securities predicted the Federal Reserve will reverse course and cut its benchmark interest rate by a quarter percentage-point at next week's policy meeting.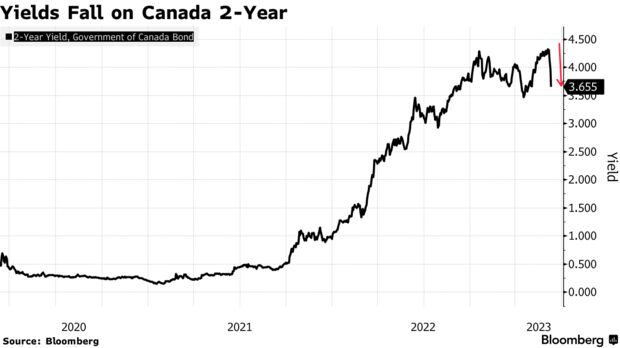 "We are in behavioral finance-land now and it's safe to assume that investors will likely stay careful and fly to safety until we have a complete picture of the situation," said Sebastien Mc Mahon, chief strategist and senior economist at Industrial Alliance Investment Management Inc. 
It's "quite unlikely" that the Canadian yield curve will diverge significantly from the US, Mc Mahon said. 
"We believe financial stability concerns spilling over from the US is material enough to rethink the market reaction function in Canada," Canadian Imperial Bank of Commerce fixed-income strategists Ian Pollick and Sarah Ying said Monday in a report to investors. 
"The danger now is that we see market overreaction to bad data into the months ahead as the market looks to be more sensitive to rallies — something we have yet to see this cycle."